Heavy machine stitching always pulls the fabric and if done directly on a project can leave the surrounding fabric unacceptably ruffled.  Some of this can be dealt with on shrinkable natural fabrics, such as cotton or wool but not so much silk, by steaming the area upside down on a wool ironing mat or a thick pad of towels.  Polyester fabrics will not respond to steam shrinking attempts and is possible to damaged it with the  amount of steam one might try to use.  Really heavily stitched motifs are almost impossible to steam out regardless of fabrics except wool, but it may be possible to  "quilt that out" in some cases though it is not easily accomplished and doing this is very stressful in any case.
Such headaches and fails can be avoided by stitching off-project and appliqueing the finished motif on to the project background.  If you do it right, it is most often very difficult to tell that it is an applique and not directly stitched, but even if you can tell, it is preferable to the pull.
So there are several ways to approach this that usually involve machine work inside a hoop and wash away stabilizer.  I have a relatively large collection of embroidery hoops I collected over the years.  I found most of them can work for machine work, but some are just too wide to easily get under the presser foot.  There are hoops that are designed for working with a machine, and can be used for hand embroidery. I find a 7 or 8 inch hoop works well.  Here are a couple of models I like:
three plastic spring hoop set I have had a set similar to this for years, and this may be the same set.  I don't know for sure, but it works well for free motion embroidery and is thin enough to slide under the foot.  It is also easy to adjust the area in the hoop when you need to without taking it out from under the foot of the machine.
three wood traditional style set.  This is .6 inches high,  I think this will happily slide under the foot if you angle it a bit.  I do not have this set myself although I do use a couple of very old wood hoops that I have had around for a while and they are .5 inches wide and work ok with the machine.
Here is the tail on the horse on the quilt. There is not enough contrast to see it well, but after it was quilted it showed up fairly well.
And the final finished quilt that has won several nice ribbons.
Surprisingly, I found when working with my Bernina Q20 sitdown longarm that the heavily weighted gripper rings designed for quilting work wonderfully as hoops for free motion embroidery when using that wonderful machine.  I don't have a link for that, but they are available probably for order at a Bernina dealership.  I balked at the price, but waited for a really good sale and I really really like them.  I know you can get a cheaper black set without the open space on the rings for sliding on, but I love the lovely red of the rings as well as the little open spaces.  For these, you just put the layers together and the first thing you do is stitch around the layers  well away from your design to hold them together much as you would do for a quilt sandwich.  These would probably not work well on a domestic machine, even the machines with larger harps, but they are divine on my sitdown longarm for both quilting and embroidery.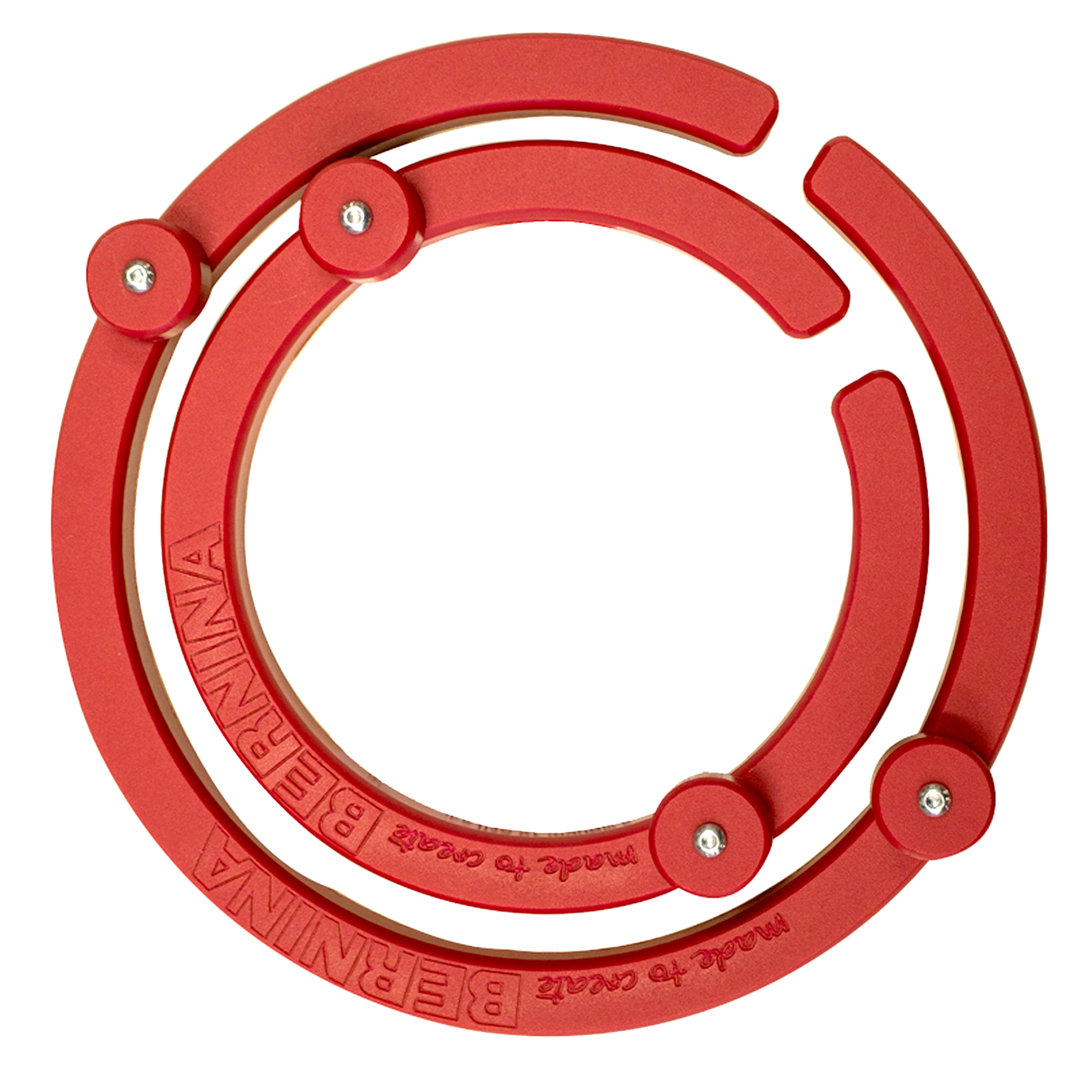 So I set up my motif build with a layer of heavy clear washaway stabilizer, such as OESD badge master, or Sulky Super Solvy on the bottom, on which I have lightly marked the design guidelines with a Crayola Fine Line Washable Marker.  On top is a layer of nylon tulle to hold everything together even if it isn't a stand-alone design.   I find when it is finished and I soak away the stabilizer, the tulle can be gently torn along the edge of the stitched motif and not seen at all once appliqued.
If the motif also includes a fill of applique fabrics, I cut the shape and glue them to the tulle with washable glue stick and that is the first thing I stitch around to hold them in place before beginning.  Then I hoop the whole thing together with the inside hoop on top so the fabric/stabilizer bundle is flat on the bottom.
Now I use the same kind of sandwich if I am doing digitized in-the-hoop machine embroidery motifs.  Here's one I made that way that also went on Noel.
After I soak off the washaways and let it almost dry but is still a little damp, I will press it upside down on my wool ironing pad with a light weight cotton ironing cloth over it.  It then can be basted down in place on your project and attached with a narrow zig-zag or free motion off and on the motif using the same thread you used at the edge of the motif.  I usually also stitch inside the motif just a little where appropriate to give it some concept of having been stitched directly in place and highlight some of the shaping.  It doesn't take much stithing to make it wonderful.
You would be amazed what you can do with this method by just adding that little bit of tulle and over=stitching a tiny bit after placement on the main background. Then  you won't have the ruffles.  You can also use this method to make some interesting trapunto designs.
Video Update:  My oldest son decided he needed to provide some significant help for my video making and asked me to pull the original video on Wool Applique by Machine.  Don't worry folks, if you were interested in my videos, they will happen and will be far better than they would have without his assistance.  I will certainly announce the videos when they are available.  This should not be very long from now…maybe a week or two for the first one, but I will let you know.  I have a long list of vlogs and video classes I am planning.
Sew happy everyone!  Go make something wonderful.